The State of Home Security in the Berkshires
Posted on
Whether you call the Berkshires home year-round or seasonally, you know that this is a special region with so much to love. With beautiful landscapes, a vibrant arts scene, and tight-knit communities, many of us have chosen to buy homes and raise families here. But how safe is the area—and how safe is your home?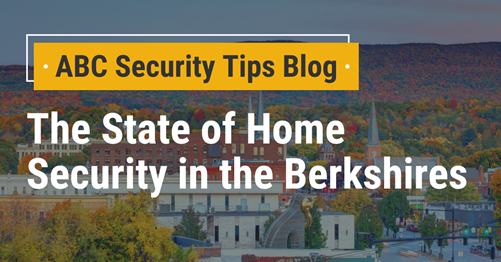 For many Berkshires residents, community safety is of the utmost importance—it may even be one the reasons you chose this area. Luckily, this value is interwoven throughout the Berkshires, and the region is recognized as a generally safe place to live. Your specific risks depend on where you live as well as your lifestyle.
Public areas of the Berkshires are very safe. When you're out on the town for some shopping, dining, or entertainment, take the usual safety precautions (e.g., lock your car and don't leave your belongings unattended), but rest assured that your risk of becoming a victim of random crime is very low.
Use more vigilance in popular vacation areas and tourist destinations. As is true around the world, crime rates tend to rise in tourism hot spots. With a plethora of annual arts festivals, outdoor recreation options, and other attractions, it's no wonder that crowds are drawn to the Berkshires! In some areas, the population can even double with seasonal travelers. While we love sharing all that the region has to offer, keep in mind that certain risks (e.g., burglary, robbery, assault) are higher if you live in a crowded area or a popular vacation spot. If so, you may want to invest in a home security system with video surveillance to deter and capture footage of any security events.
Crimes of opportunity rise with the unemployment rate. Unemployment rates across the country are staggering—and are linked to an increase in certain crimes, such as theft. Do your best to take away the opportunity from would-be criminals. Keep your car and home locked, and add more exterior lighting to your property, if needed. Many home security systems can be integrated with home automation, so that doors are locked and outdoor lights are turned on at a certain time each evening.
To learn more about your unique safety risks and how they can be addressed, schedule a consultation with one of our security professionals. We'll listen to your needs, perform a complete inspection of your property, and help make your home a safer place to live.
---