How to Prevent Package Theft
Posted on
Online shopping is more popular than ever before—it's a convenient way to get what we need while saving time and money. And in the wake of the Covid-19 pandemic, online shopping is also undoubtedly a safer option. But as the number of deliveries increases, package theft is also on the rise. So how can you protect yourself from "porch piracy"?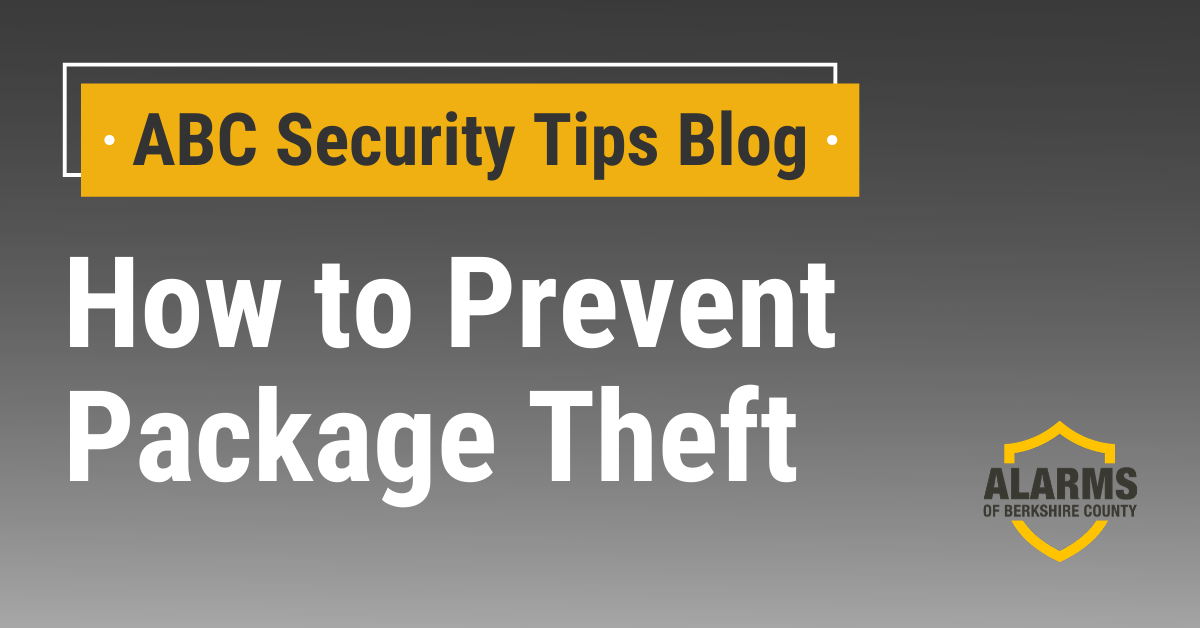 Package theft is a serious issue as well as a growing trend—among the more than 1.7 million packages that are stolen or lost every day in the United States are vital medications, perishable groceries, and other time-sensitive items. But no matter what you're waiting on, a package theft can justifiably leave you feeling vulnerable or like your home security has been violated. And to make matters worse, the time you saved shopping online must now be spent checking in with neighbors, contacting the retailer, or putting a claim in with the delivery provider.
But knowing that porch piracy is a widespread and frequent problem—in neighborhoods of all types—is the first step in protecting yourself against it. With a bit of extra vigilance, you can prevent your deliveries from falling into the wrong hands.
Bring Packages in Promptly
In some areas, porch pirates may simply follow behind a delivery truck to look for potential targets. But if you know when to expect your package, you can get to it before a thief does.
To that end, you'll want to keep tabs on when your packages will be delivered. Pay attention to shipping notifications in your inbox, and use the provided tracking numbers to get updates on the estimated delivery date. Many major retailers also offer real-time tracking options that will tell you what time to expect your packages on delivery days.
Install Video Cameras or a Video Doorbell
Porch pirates are notoriously brazen—but no thief wants to be captured on video or caught in the act. Well-placed home security cameras act as a theft deterrent. Doorbell cameras can provide basic coverage, or a security professional can install a system of motion-activated, multi-directional, and/or panoramic cameras to ensure complete coverage of your home's exterior.
If you're not able to take a delivery in right away, you can use video feeds to verify that packages have been delivered. And if your package is stolen, you'll have high-quality video footage that can be used as evidence.
With a video doorbell system from Alarms of Berkshire County, all of these powerful features can be controlled right from your smartphone. A secure and simple-to-use app lets you see, hear, and speak to those at your door.
Delivery Beyond Your Doorstep
For those who can't be home during typical delivery times or who don't want their packages left at their door, there are other options to explore. Some retailers offer scheduled in-home (or in-garage, or even in-car) delivery, using a system of smart locks and video cameras to ensure security. You can watch the delivery happen in real time, your home is locked up again after the drop-off, and your purchases will be safe from both theft and inclement weather.
One More Important Tip
After those packages have been safely delivered and received, don't kick the boxes to the curb just yet. Break down product packaging and place the flattened boxes into your recycling bin or in an out-of-sight spot. Otherwise, these boxes can act as a billboard to potential thieves, letting them know about the new goods or valuables they could find in your home.
---