How Safe is Your Neighborhood?
Posted on
Unfortunately, no neighborhood is completely immune from crime. Whether you've just moved into a new home or you've lived in the same place for years, you may be wondering about your risk level. So just how safe is your neighborhood? Here's how to find out.
Do Your Research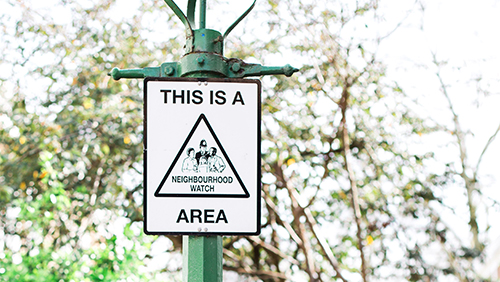 Luckily, how to check if your neighborhood is safe has never been so simple. There are a variety of free, convenient online tools you can use to get an overview of recent crime in your neighborhood.
One of the most streamlined tools is AreaVibes, which aggregates a variety of data points to create "Livability Scores" for cities and neighborhoods. Simply enter your address or zip code, and among the data presented, you'll be able to see your area's crime rating and trends, statistics for violent crimes and property crimes, and how your area compares to both the state and country.
For families with children, it's also important to check the National Sex Offender Public Website. Search for registered sex offenders in any neighborhood, and see address details and a photo along with each result. While it can be alarming to find an offender living near you, it's better to be armed with this knowledge than to live in the dark. Knowing who to avoid getting friendly with and which houses to skip on Halloween can keep your family safer.
Stay Informed
Keep your finger on the pulse of neighborhood safety by signing up for local crime alerts.
On SpotCrime, which aggregates and maps crime incidents from police departments, you can customize the email alerts you'll receive, specifying the address and setting the radius around it from 1 to 10 miles.
If your local law enforcement agency uses CityProtect, you can also sign up here to receive daily, weekly, or monthly incident reports.
Do Some Exploring
For those who have just moved to a new neighborhood, some baseline research into local home values, school district rankings, etc. can help you get your bearings. More importantly, though, take the time to drive around and visually assess the neighborhood.
Ideally, your neighborhood will consist of well-cared for homes, tidy landscaping, thriving businesses (if applicable in your area), and children playing outdoors. Keep an eye out for empty storefronts, broken windows, graffiti, trash-strewn streets, and empty homes with overgrown properties, all of which can be red flags for neighborhood safety.
When driving through the area at night, take note of any public spaces that are overly dark, such as parks, sidewalks, and alleyways. Any streetlights that are out should be reported promptly.
Get Social
Unlike online resources which provide data and statistics, neighborhood-wide social media groups and listservs can put a personal spin on local safety. See if your area has an established group on Facebook or Nextdoor. Here, neighbors can post about any security concerns and give others a head's up about car break-ins, package thefts, and other incidents.
If you aren't interested in other topics, Nextdoor allows you to filter the posts you see. Hop right to the "Safety" section—you'll stay up-to-date on crime reports while remaining blissfully unaware of neighborhood gossip.
Connect with Your Neighbors Offline
Of course, to make the neighborhood a safer place for all, it's best to get to know each other face-to-face. These tips for in-person interactions are a great place to start.
Go beyond waving. If you're new to the area, make it a point to get to know your neighbors in the surrounding homes. Pick a convenient time of day to knock on their doors and introduce yourself.
Get out there. Simply spending time in your neighborhood can give you a solid handle on what feels "normal," so that you'll be more alert when faced with something suspicious. Take frequent walks through your neighborhood, and attend local events like block parties, tag sales, and farmers' markets, and you'll soon start recognizing faces and learning names.
Be a good neighbor. Beyond just getting to know their names, exchange phone numbers and start forming relationships with your neighbors. Offer to take in their mail, feed their pet, or just keep an eye out while they go on vacation, and they'll likely be willing to reciprocate.
Join the neighborhood watch group. If there's a need for heightened vigilance in your area, volunteer to join or start a neighborhood watch group. Have signs posted to make others aware of the watch group.
Do Your Due Diligence
In a perfect world, we could all work peacefully and cooperatively with our neighbors to create safer, more secure neighborhoods. However, at the end of the day, you can only take responsibility for your own actions.
That's why—even if you have great neighbors and an enthusiastic neighborhood watch group—we still recommend scheduling a consultation with a security professional. Find out where your home's points of weakness are, what risks you may face, and how you could better protect your family and your property.
Alarms of Berkshire County can ensure you have the right level of coverage—from fire alarms and carbon monoxide detectors to security systems and surveillance cameras—at a price that meets your budget.
---